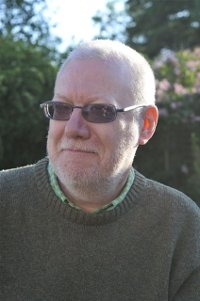 Hi, I'm John Jarrold. I act as a literary agent for over forty authors. Check out my client list, and see news of recent deals. [portrait by Jim Burns]
PLEASE NOTE. THE AGENCY SPECIALISES IN REPRESENTING SF, FANTASY AND HORROR NOVELISTS FOR THE ADULT MARKET. WE ARE NOT TAKING ON NEW CLIENTS IN ANY OTHER AREAS OF FICTION OR NON-FICTION, OR WRITERS OF YA OR CHILDREN'S FICTION.
Since 2002, I've also been working as a self-employed editor of both fiction and non-fiction books. If you want your book edited by a professional, I can help. I can't promise you'll be published, of course, but I can shape your work to give it the best possible chance.  There are more details on the editing page, and queries should come to the e-mail address below.  The editorial work is completely separate from the literary agency.
SUBMISSION GUIDELINES:
If you want your novel to be considered by the agency, please e-mail the first six chapters as a Word Document attachment using  the address below, and one paragraph about the work you're submitting as well as comparisons with two or three recently-successful authors in the same genre (not long-term bestsellers) – so I'm aware you know the genre well, as it stands today. You're also welcome to add any useful info about your publishing background, and to ask questions by email. The agency does not charge a reading fee. If your submission is not  dealt with in two weeks, please follow up by e-mail. Thanks! FYI, the agency is always open for submissions.